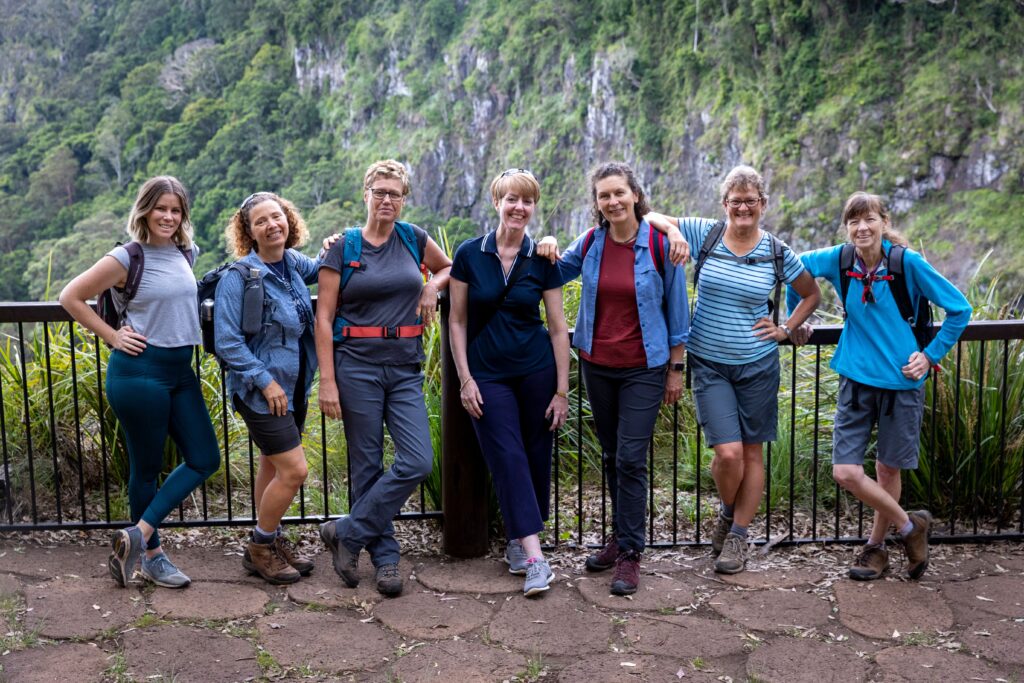 It's never been easier for women and girls to explore one of the best regions in the world, thanks to the new Scenic Rim EmpowHER Hiking Program, launched today.
Bookings are now open for 60 hikes across the Scenic Rim, from February to June 2022, to help local women and girls get active, learn essential bushwalking skills and boost their confidence in the outdoors.
Scenic Rim Mayor Greg Christensen said the program is a fantastic safe, supportive and low-cost way for women and girls from the Scenic Rim and beyond to try hiking.
"Having just been named one of Lonely Planet's Top 10 regions to visit, especially for our eco-experiences, we'll be on the map for explorers right across the world," Cr Christensen said.
"This is a chance for locals to get to know their backyard and gain life-long skills to help them explore the spectacular landscapes of the Scenic Rim.
"Thanks to $100,000 funding from the Queensland Government, and Health and Wellbeing Queensland, we're offering an incredible program of guided walks and hikes for all fitness levels, from easy introductory walks to more challenging full-day hikes.
"If you've ever thought about hiking but didn't know where to start, this is the perfect program for you — our expert guides will show your everything you need to know.
"This program is the first of its kind in the Scenic Rim and we're so proud be partnering with three incredible local providers, Mt Barney Lodge, ParkTours and O'Reilly's Rainforest Retreat, to deliver this program," he said.
Lisa Groom from ParkTours said hiking is one of the best ways to see the region.
"We love to showcase the Scenic Rim through walks and adventures in the natural world. It's got everything from waterfalls walks to mountain hikes and beautiful country towns in between," she said.
"Walking with a guide allows people to really enjoy the scenery in safety, get to know more about the local area and build up their fitness and connectivity to the amazing natural environment.
"We'll be showcasing the Tamborine and Lamington national parks, with a great mix of introductory walks, half and full day hikes, plus mid-week walk to enjoy the national parks without the crowds, and even a mother-daughter sunrise hike for something extra special."
Tracey and Innes Larkin from Mt Barney Lodge said they can't wait to meet a whole new group of first-timers and introduce them to hiking in the Scenic Rim.
"The name says it all — this is not just a series of guided walks, but a means to empower women and girls to be outdoors and active," Ms Larkin said.
"We are proud to be experts in the Mt Barney National Park, having guided people in the Scenic Rim for the past 20 years, so not only will you have a safe and fun experience, but you will come away with knowledge about the animals, geology and the history of the area on one of our walks.
"There'll be plenty to choose for all ability levels, from a sunrise on Mt Cordeaux, to a sunset hike to the Mt Maroon summit, and even a winter solstice walk with a waterfall plunge pool at the end for the ultimate sense of empowerment!"
Shane O'Reilly from O'Reilly's Rainforest Retreat said the Scenic Rim is the perfect place to start walking and hiking.
"There's such an incredible variety of trails and tracks within Lamington National Park. There are easy grades and distances which are well marked through to actual climbs with no track whatsoever, which means it's great for beginners through to challenges for the fittest," Mr O'Reilly said.
"O'Reilly's is very excited to be involved in the EmpowHER program to teach a new cohort of locals and visitors about hiking, exploring safely, and travelling sustainably.
"By sharing our beautiful rainforests, mountains and national parks, we not only get more people active in the outdoors, but also foster a greater awareness of our natural surrounds and why we need to protect them."
Mayor Greg Christensen is encouraging locals to get in quick to secure their booking.
"At just $15 a ticket, check out the full program online and book your tickets before they sell out."
Find out more, view the full calendar of events and book your tickets at www.scenicrim.qld.gov.au/EmpowHER
This project is jointly funded by Queensland Government, Health and Wellbeing Queensland and Scenic Rim Regional Council.