Tamborine Mtn Camellia & Magnolia Festival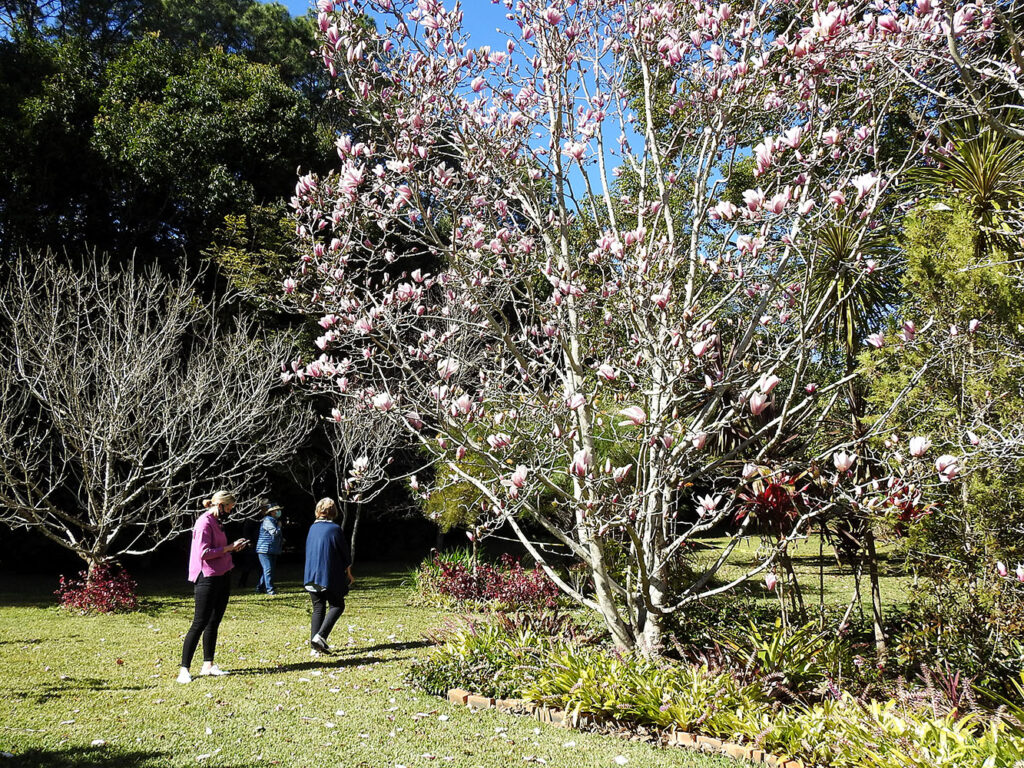 "No two gardens are the same, no two days are the same in one garden."
The Camellia and Magnolia Festival hosted by Tamborine Mountain Garden Club was a great success and a wonderful day was enjoyed by everyone involved including volunteers, gate keepers, owners, and of course visitors.
The Open Gardens Trail showcased five gardens in Eagle Heights and Tamborine Mountain and also featured winter flowering gardens with Birchgrove Nursery & Garden Centre, Bamboo Down Under and Tamborine Mountain Nursery also opening en route to the open gardens..
Perfect weather saw a constant flow of visitors admiring and taking photos of each of these five beautiful and diverse home gardens.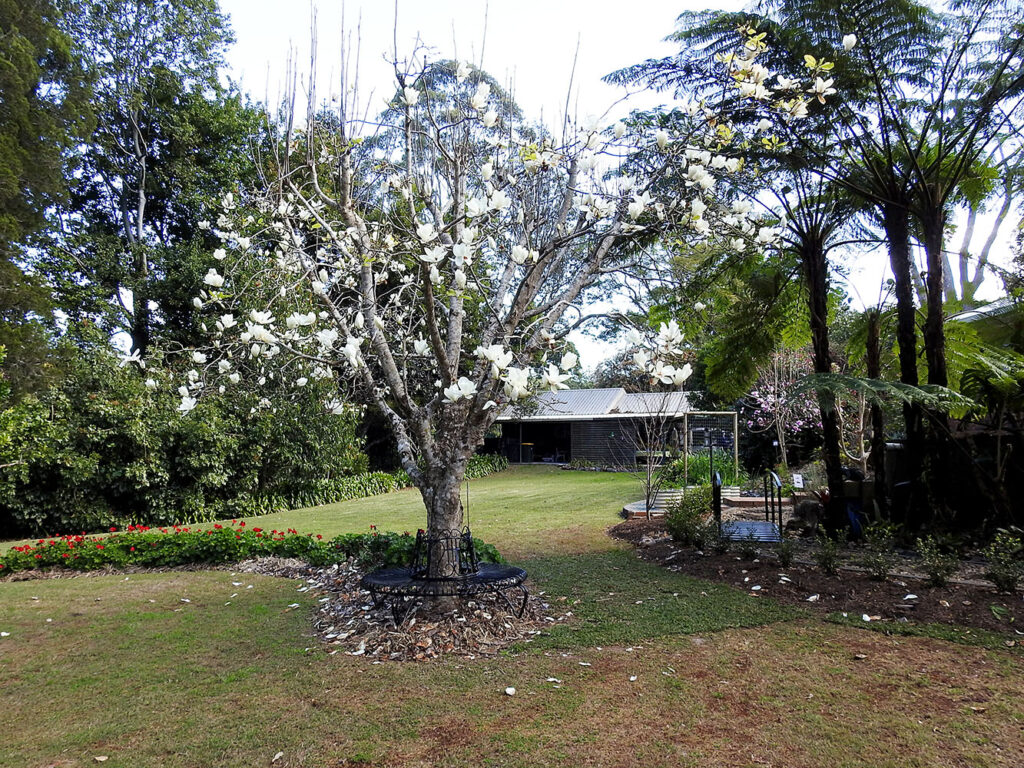 Harmony Gardens at Ben Nevis Street is a well-established 2-acre garden started 45 years ago with many unusual camellias. Paths wind through different garden rooms, sunny flower beds and beautiful shady forest walk.
Leon aged 90 and Joan aged 85 have thoroughly enjoyed their garden for 45 years. They are very active in their garden and proudly display Leon's hobby of stonework.
Camden Cottage at Wongawallen Road is an acre of semi formal garden bordered by well established magnolias and camellias. Perennial flowers have been carefully placed to add vibrant colours to many parts of the garden. The large fountain feature is frequented by native birds. Beverley Beaver and Rosemary Stephens welcomed visitors to this garden and ensured everyone complied with Covid regulations.
The Bower at Wongawallan Road is well established japonica camellias and deciduous magnolias feature in this Japanese inspired garden. Highlights include winding pathways, a moon arch, a waterfall fishpond and bridges.
The Avenue at Beechmont Avenue is an established half acre garden in the heart of old Eagle Heights. As you enter the garden you pass a gentle water fountain, one of three water features in the property. A meandering path leads you through cottage gardens and maidenhair ferns to the vegetable gardens. Camelia plant sales and talks by Camelia Society President, Darryl Baptie, was a highlight in the back garden. Ann, Joanna and Kate (mother, daughter and granddaughter) personally welcomed every visitor to their garden.
The Haven at Areca Court is a 1/3-acre garden featuring camellias, magnolias, Japanese maples, rhododendrons and azaleas. This is a true collector's garden full of rate and unusual plants. Roy and Larraine Bilbie organise personal visits by appointment only. Gate Keepers, Jeanine Henderson and Deb Sartori welcomed visitors to Roy and Larraine's beautiful haven.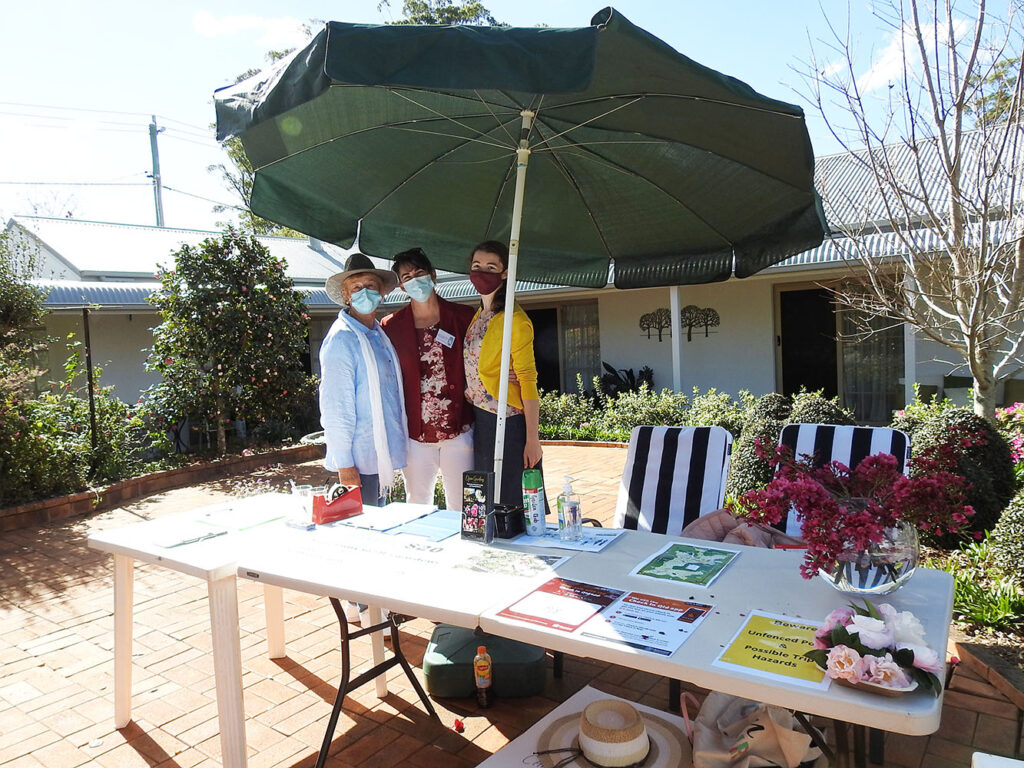 Open Gardens Galore and what a wonderful day it was!
By Noeleen De Lange (Team Reporter)