Jessica Creates A Special Christmas Range To Support Little Elves With Special Needs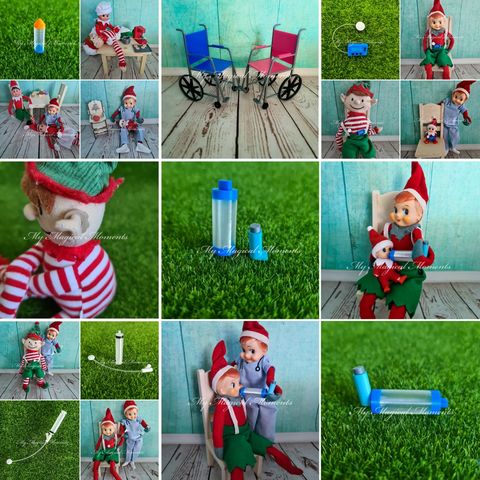 Hi, my name is Jessica Daly.
My business, My Magical Moments, was started back in 2015 not long after I was diagnosed with a rare and debilitating illness. I was unable to work in a normal capacity and as I was also a single mum, so I needed to find a way to earn some extra money to provide for my family.
I also became aware, that there was a huge gap in a service where lower income families wanted to provide a new Christmas tradition for their families but found that the prices of items were not within their reach. I believed that I could design and provide a range of suitable props and accessories for the popular Christmas elves, at affordable prices, so that every family had the opportunity to add a little bit of extra magic into their homes at Christmas. So, with a headful of creative ideas, My Magical Moments was born. www.mymagicalmoments.com.au was soon a reality.
As My Magical Moments continues to grow and learn about our customers and their personal dreams for their own families, we became aware that many families struggled with a way to help their children with special needs adjust and feel included. So once again we began thinking of a way that we could help.
Recently we relocated from NSW to Qld where we met and began working with another local 3D printing company, Pick or Choose Designs. With the owner suffering from chronic Asthma and my knowledge from working with children with special needs in the past, we wanted to create a very special line this year.
After many months of creating and bringing our designs to reality, we were able to proudly release our incredibly special range on September 1st, when we relaunched for the year.
Our new Special Needs range includes a puffer and spacer combo, hearing aids custom designed to fit all the different branded elves, a feeding tube set, epi pens, insulin pumps and wheelchairs. It was extremely important to us that our range was affordable, so are very excited that the prices start at only a few dollars.
The incredible feedback and notes of appreciation, from families and carers of children with special needs, confirms to us how important these special needs line really was for families. Amazingly, we have been able to help over 1,000 families, in just over 2 months, in providing a unique way, (with the assistance of their Christmas Elf), showing their child that they are not alone and that it is OK to need different types of medical equipment to assist them in their daily lives.
We are already hard at work designing to expanding our range to include more props and accessories that relate to other special needs, for our relaunch on September 1st, 2021.
Within the next year our aim is to be able to work closely with targeted non-profit organisations so that we can assist these wonderful families even more.
Thank You, Jessica
See our Special Needs Range