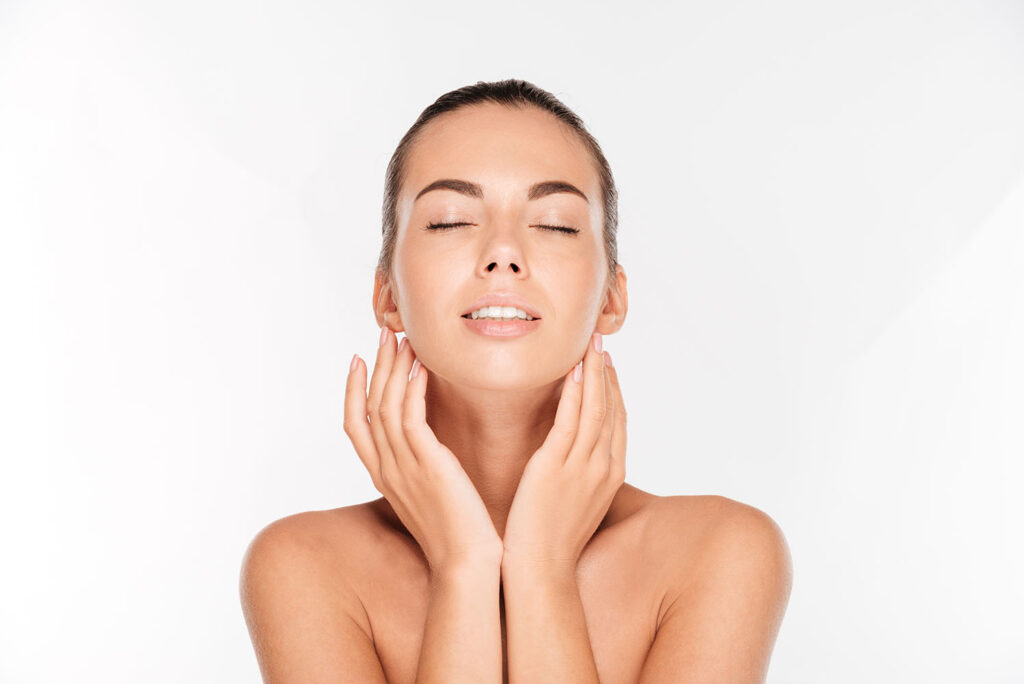 Time To Treat Your Skin For Festive Season!
Whilst we can get caught up in festive cheer, let's not forget to maintain a healthy skincare routine, morning and night. Treat your skin and give it a good exfoliant. What is exfoliate you ask? Every 28 days or so, our skin creates new cells that arrive at the surface of the skin and die off, they don't flake away, they just sit there. We need to slough away the dead skin cells. There are a few ways you might do this. You could try to make a home remedy or you could use a specially crafted exfoliant product. This can help rid you of these dead skin cells, maintain a glowing, radiant skin and help with reducing pore size. Exfoliant is not just for face, but also the body.
When talking about exfoliants you'll see words like "Acids" on labels. Don't be too alarmed, as these are names of ingredients. There are a few various products to rid dead skin cells from the face / body. Some exfoliants available have fine granules in a cream base, whilst others are a pad type product. Without being too technical, just a quick explanation, as you may have seen some products that have words like AHA (alpha hydroxy acid) and BHA (beta hydroxy acid) and PHA (poly hydroxy acid) and have no idea what they all mean. What is the difference between them? These cosmetic acids are three substances found in nature which have been specifically designed to achieve different results. Some of them can also contain anti-oxidant and anti-inflammatory properties. PHA has a larger molecular structure than AHA which just means it penetrates the skin more slowly, so these sorts of acids will be in a leave on product rather than a wash off product. They are milder than AHA and BHA, therefore doesn't exfoliate as powerfully as acids with smaller molecular structure. They are perfect for sensitive and dry skin types as well as skin conditions such as eczema or rosacea. BHA being water soluble acids, generally made from sugary type fruits, can penetrate deep into pores to remove and slough away dead skin cells and control excess sebum. But if unsure, just ask me.
Not all exfoliants will suit all skin types. If you don't know what skin type you are, feel your skin, especially around the 'T-Zone (across the forehead and down the nose) and if it's a little greasy, especially in the morning, then you may have an oily skin, (P.S – don't waste this natural oil, rub in on the shoulders or arms or any dry area, or through your hair, it's a part of who you are) or if you are itchy and you find your skin rather flaky, you may have dry and sensitive skin. If your skin is covered in pimples or red spots, whether it be adolescence or hormonal, then your will need some TLC and a very, careful thought out skin routine. You can always email or phone for help, just ask me. No matter what skin type you are, you will have dead skin cells that need to be removed. If they are not removed then all sorts of topical skin conditions may arise. If you are unsure, please contact us for further discussions. If using a pad type product, which may sometimes have glycolic acids, AHA's, BHA's and PHA's, gently apply all over face, avoiding the eye area. Some products you may be able to leave on, others are a wash off type. Read your packaging and follow their directions carefully. These pad type products may also make your face glow brighter than the Christmas Tree, and that is fine too, as it's a reaction with the ingredients and your skin type, however if unsure, just ask me.
Night or Day to exfoliate? It doesn't really matter. When exfoliating, use the desired amount of product and in circular movements, massage all over face, neck and décolletage areas, keeping away from the eye area. Either shower off or rinse with a warm cloth. Ensure all the exfoliant is removed from the skin, nose area, hair line and ear areas.
Spray Green Coffee Anti-Oxidant Toner / Mist straight onto the skin with eyes closed or onto a cotton circle, to bring the pH level of the skin to neutral then apply your choice of either day or night moisturiser. Jordella Skincare has several Hydrators to choose from – Pure Peptide Ultra Light Hydrator is one of my favourites as it has clinically proven ingredients that firm the skin, reduces wrinkle depth and hydrates skin for up to 72hrs. Do you want this product, absolutely!
Once you have exfoliated, it is always good to give your skin a huge boost of hydration, using products that include fruit and herb botanicals, vitamins and extracts by applying a great masque twice a week. Again, there are several to choose from, Jordella Skincare has the Rejuvenation Peptide Masque which is a cream base, apply all over the skin, using tiny circular movements or using a small clean applicator brush, leaving on for at least 20mins, can be left on for a few hours whilst relaxing or reading, or performing house hold duties, then removing with warm cloth or in the shower. The other mask is a great one for clients with larger pores so the Hemp Clay Mask will be your answer. This has Australian clays and it looks like mud, so apply the mask all over skin, avoiding eyes and leave on for around 20mins, you face will feel very tight as it's drying on the skin but will not dry out the skin. Remove in shower or with warm cloth and make sure you take it all off, around nose, hairline etc. Spray Green Coffee Anti-Oxidant Toner / Mist straight onto the skin with eyes closed or onto a cotton circle, to bring the pH level of the skin to neutral, and remove any mask left on the skin, so your moisturiser can be applied. There is no difference to treating your skin morning or night, just make sure you are using the appropriate hydrator. Serums are the delivery vehicle that help vitamins, minerals and active ingredients to penetrate deep withing the skin to repair, nourish and maintain healthy, radiant and younger, less wrinkled skin. When to apply – prior to your moisturiser. Allow to dry for a few seconds. Your routines, morning and night, should only take you a few minutes. If you desire gorgeous skin, then you need to really look after it, it's your biggest organ and it will love you for it.
Always remember to drink water regularly over the day. If you are unsure about looking after your skin and would like to know more, please feel free to contact me: Colleen Hagarty ~ Jordella Skincare ~ 0403 659 656 ~ warehouse@jordella.com.au ~ always read the label or ask your supplier on how to use their products. Jordella Skincare products can be found at Tamborine Village Pharmacy near our wonderful Post Office or at the Village Witch Alchemy on Tamborine Mountain.
Merry Christmas everyone
from me and mine
to you and yours.
By Colleen Hagarty
Jordella Skincare 0403 659 656
warehouse@jordella.com.au