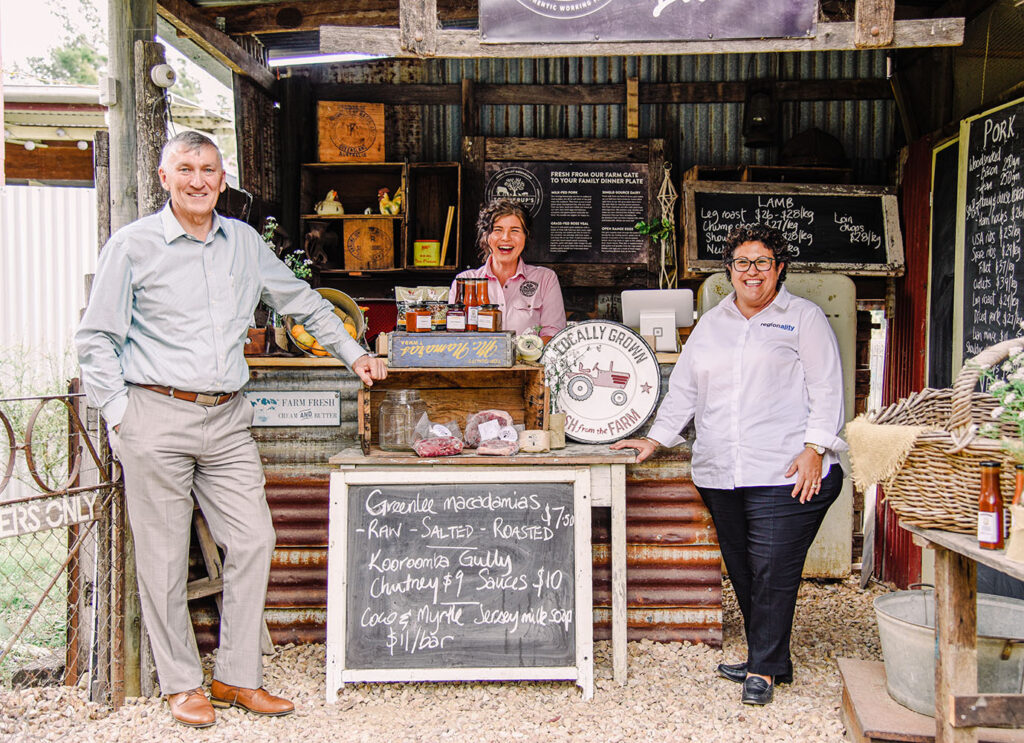 Regionality and Scenic Rim Regional Council Announce Partnership for FARM2PLATE EXCHANGE 2021
Australia's ultimate change-making, agrifood networking event is back! Regionality, in partnership with Scenic Rim Regional Council, is excited to announce Farm2Plate Exchange 2021 will be held in the stunning Scenic Rim next May.
The conference, exploring the theme "RENEWAL", brings together leaders involved in the producer to consumer value chain and attracts an audience drawn from across Australia, working in fields of agriculture, food and beverage manufacturing, regional food distribution, regional food networks, agri and culinary tourism, hospital, economic development and policy making.
Farmers, chefs, educators and tourism and hospitality businesses, are invited to join us to debate the big ideas over two full conference days on May 18 and 19 with masterclasses conducted either side of these dates.
This year's theme is aligned with ideas of adaptation and resilience.
Farm2Plate Exchange 2021 will provide opportunities to network and experience hands on learning through workshops lead by industry masters, off site farm tours, panel discussions and dinners showcasing food produced in the region.
Hosted by a different region every year, the event is a platform for the development of greater knowledge and deeper understanding of solutions and better approaches to common problems from farm to plate.
In keeping with the "RENEWAL" theme, Regionality Managing Director, Rose Wright, said the Scenic Rim, in South East Queensland, was a natural choice to host for Farm2Plate Exchange 2021.
"For many years, the people of the Scenic Rim have demonstrated great resilience and community spirit after facing more than their fair share of adversity. In the face of drought, devastating bushfire and floods, and now Covid-19, this remarkable region has shown enormous optimism," she said.
"A fierce community spirit is clearly evident here in an ongoing collaborative local food strategy and signature regional event, Scenic Rim Eat Local Week. In the face of the pandemic restrictions, the local Council and producers launched a 'farm-to-front door' Scenic Rim Farm Box concept as a response to the cancellation of this much-loved event, and to provide much needed economic support to its local producers."
Scenic Rim Mayor Greg Christensen said it was an honour for the region to host the Farm2Plate Exchange and delegates next May.
"The Scenic Rim is a national award winning region for its food credentials and is renowned for authentic visitor experiences, so we know the delegates will arrive as visitors and leave as family," he said.
"With RENEWAL being the theme of the event, many of our local farmers have demonstrated their strength and resilience by pivoting their businesses in to agritourism to adapt to ongoing changing conditions."
Scenic Rim local dairy farmer and agritourism operator Kay Tommerup will be speaking at next year's event and said it is a privilege for her family to be hosting some of the on-farm events and a local produce dinner at the family property.
"Having been one of the original participants in an agritourism program with Scenic Rim Council and Rose Wright over a decade ago, I know first-hand how adapting farm business with diversified income streams can build resilience and confidence in the future of the family farm," she said.
"Last year's exchange was truly inspirational and I'm so looking forward to being surrounded once again with like-minded farmers and producers, learning from such a wealth of knowledge."
Farm2Plate Exchange 2021 will highlight the Scenic Rim's growing reputation as a clean and sustainable food producer and a fascinating agritourism destination. Many businesses in the region have flourished over the past decade after taking part in agritourism business development programs with Ms Wright.
Some of the keynote speakers at this unconventional convention include:
· American farmer and author Joel Salatin
· Aboriginal author and innovative farmer Bruce Pascoe
· Author and regenerative farmer Charles Massy
· Fifth generation grazier Kate McBride
· Food writer Barbara Sweeney
· Chef and writer Christine Manfield
Scenic Rim Regional Council acknowledges assistance from the Commonwealth Government under the Disaster Recovery Funding Arrangement.
Regionality is highly regarded in Australia as an independent authority on agritourism, farm and regional food innovation systems. Providing a comprehensive range of regional and business development services, Regionality proudly supports farmers, individuals, organisations and communities throughout Australia.
REGISTER NOW: Farm2Plate Exchange
Booking or sponsorship enquiries: Renae Denny – Event Specialist
events@regionality.com.au or telephone 0456 673 706.
Media enquiries: communication@regionality.com.au.