Local Firefighters Stair Climb To Fight Cancer
Local firefighters fight cancer one step at a time. Six local firefighters have begun training for the Rhapsody Stair Climb being held in September to raise funds, and support Australian firefighters and their families through firefighter cancer.
One hundred first responders from throughout south-east Queensland are expected to turn out on September 24 in their full gear to climb 41 floors of stairs to the top of the Rhapsody Resort on the Gold Coast for the Firefighters Cancer Foundation of Australia (FCFA).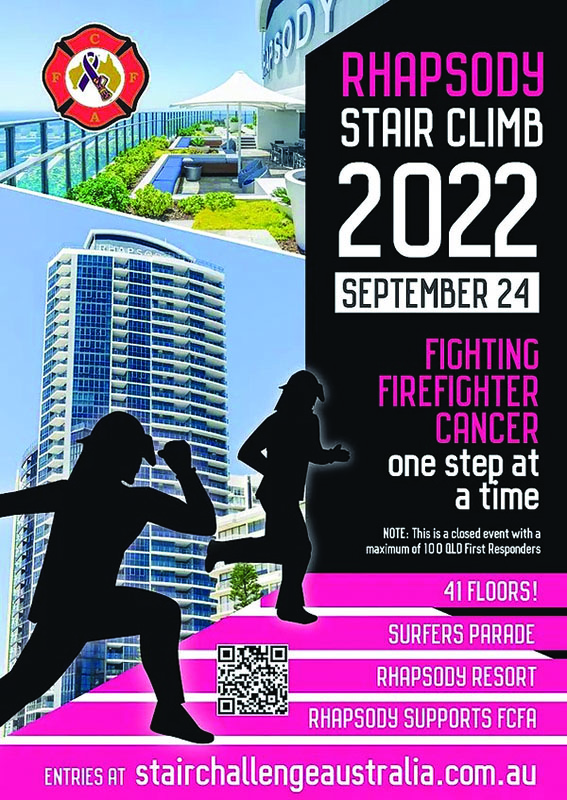 Grace McGhie, Kieron Maynard and Cameron McRae are planning to take part, representing the Tamborine Rural Fire Brigade (RFB), while other Tamborine RFB members Paul Rutherford, Daniel Roberts and Damian Robert will represent Station 55 Yarrabilba Auxiliaries.
One of the participants, Grace McGhie said the Tamborine RFB is solidly behind the event.
"To have this many members representing from our little community is a great effort, so we would really love to get the communities support!"
The FCFA supports firefighters and their family members to deal with issues that may arise when a cancer diagnosis is made.
To be eligible to climb each participant needs to raise a minimum of $300.
If anyone would like to support the Tamborine RFB, they can visit: https://fcfa-limited.grassrootz.com/rhapsody-stair-climb/pyros-of-the-caribbean