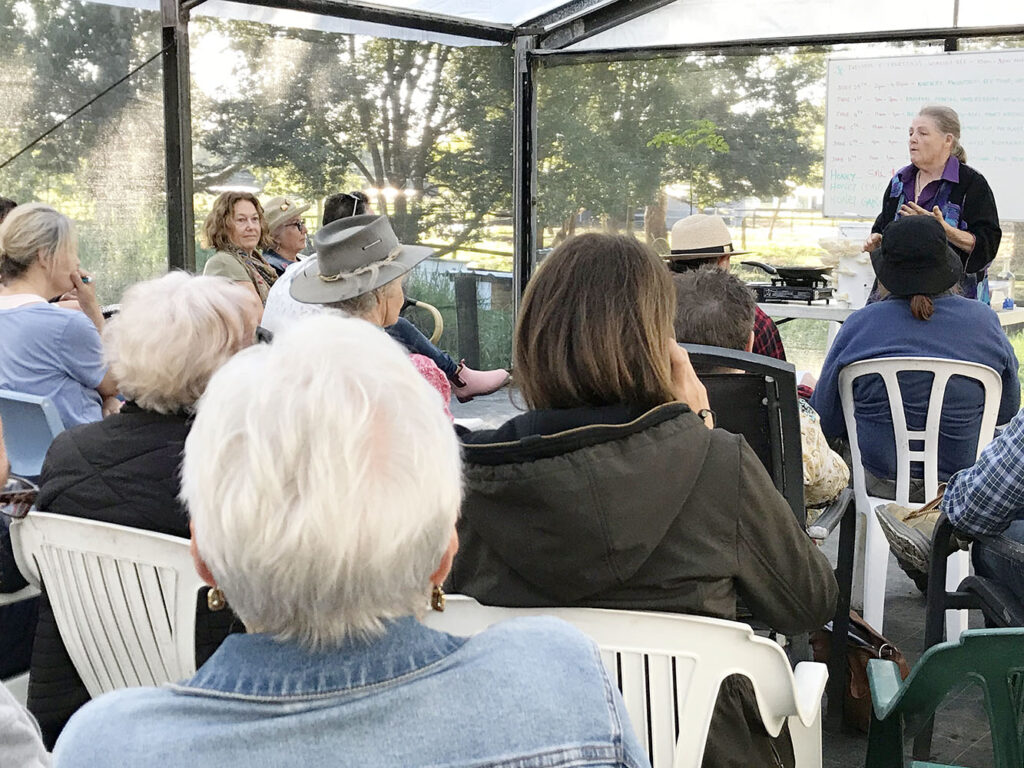 On Sunday 29th of May, Kerrie Mercel took full possession of her Vonda Youngman Drive nursery property, hooray! Not one to let any grass grow under her feet it was also open day, held once a month, for the Allow Love Nursery Tour.

Previously residing on a one-acre permaculture property in Loganlea, Kerrie had become disenchanted with the literal 'buzz of the suburb'. Logan – the test area for drone delivery services, was awash with the continuous buzz of drones, the relentless wail of ambulance sirens enroute to Logan Hospital and early morning helicopter surveillance announcements.

A robbery cemented her saturation point and within ten days of making the decision she had sold her home and purchased the prior Green and Gold Nursery and nine quiet verdant acres. With spring water plentiful and numerous growing tunnels and sheds already set up Kerrie could follow her vision to be of service to the community in these troubling times.

In Kerrie's vision of the future members of the Allow Love community will treat all with respect, trust, and integrity whilst assisting as a group to grow food including medicinal herbs and mushrooms, keep bees and share skills or any jewels of knowledge in workshops (with full support available). Any creative ideas for workshops will be entertained. Kerrie hopes to set up community gardens and make space available in growing tunnels, fully watered, to any interested parties. Allow Love is a drop off point for distribution of any surplus produce from local growers, so a monthly crop swap is in the works. Kerrie is a qualified chef and cooks' lunch for volunteers on working bee days and also has a long-term vision for a commercial kitchen as well as emergency accommodation for people in need.

A Moringa plantation is in its early stages with the property being a certified grower for this most expensive and in demand product. A food forest and healing centre are also on the to-do list. To allow this expansive vision to come to fruition volunteers are needed and whilst Kerrie is ably supported by mushroom guru Richard who runs a monthly workshop on growing oyster mushrooms, community leader Dave in the garden, Sheree imparting her knowledge on medicinal herbs, plant propagation and rotation, and Events Coordinator Jackson, more help is required so Tuesday and Thursday are volunteer days, between the hours of 10am and 3pm, with lunch provided.

The Range Of Workshops Include: Spiritual Sharing, Card Reading, and Intuitive Conversations, Beekeeping, Make Your Own Bamboo Cup and Pot Plant Holder, Show and Tell Natures Gifts and Alternative Medicines, and Grow Healthy Nutritional Food Ready To Eat In 13 Days. Singing Bowls, Gong Baths and Singing Circles are also in the works alongside the regular Monthly Nursery Tour.
Singing bowls, gong baths and singing circles are also in the works alongside the regular monthly nursery tour. Checkout Allow Love on allowlove.wixsite.com/allow-love and their numerous telegram sites or contact Jaxin Brook on 0433079394 for workshop and gathering information.