Bearded Dragon Tamborine snaps up awesome upcoming artist for a Free Show on latest East Coast Tour!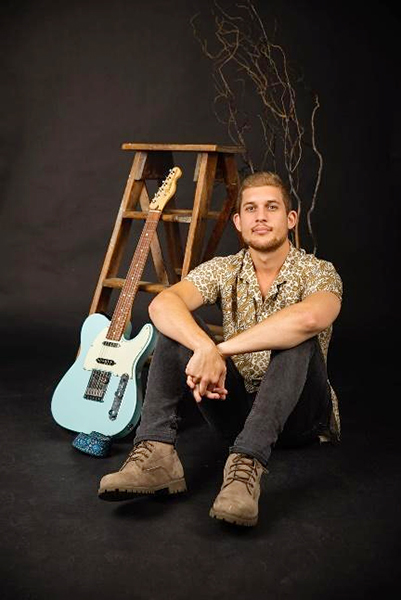 Andy Martin has had quite the start to his solo venture – despite the fact it wasn't really the easiest time for a new artist to release new music. Andy's energetic indie pop sound has made a mark not just here but all over the globe with the single releases Heat of it All (via CLASH Magazine & MTV) and Mess We Made (Triple J). After a run of SOLD OUT shows to celebrate the launch of the EP with a full band behind him, Andy is already making waves so early into his career. He has been compared to the emotional Indie sound of artists like Sam Fender, Bruce Springsteen & Gang of Youths. He is relatable, thoughtful, and empathetic in his song writing.
The 24-year-old multi-instrumentalist left his hometown of Cairns when he was just 17 to study under the great James Morrison at his Mt Gambier Jazz Academy when James discovered Andy performing in the remote community of Yarrabah. From performing trumpet with internationally acclaimed brass bands to playing leads in various musicals, Andy's musical journey has been quite unorthodox.

FREE LIVE SHOW – Sunday 21 August 2pm on Main Stage
Moving between Cairns and Brisbane after his studies and global experiences under the guiding hand of James, Andy went on to form the band HANDLES. It went from a 2-piece to a 5-piece and the band had a hugely successful couple of years, supporting the likes of Alex Lahey, playing at the Commonwealth Games, and receiving a no.1 spot on the overall Triple J Unearthed Charts for their song, "Selfish Lover". However, with Andy moving to Brisbane and to study/work it spelled the end for the band. Towards the end of 2019, Andy met with Ian Haug from Powderfinger and since that friendship and encouragement, went to record his debut EP at Airlock Studios alongside James See.
Catch Andy Martin in a FREE SHOW Live on the Main Stage at Bearded Dragon Hotel Sunday 21st August 2pm Book your crew now 5543 6888 @beardeddragonhotel

Livewire Music Australia:
"Powerful. Heart-felt. Punchy. Andy Martin is a fairly fresh face on the scene, but he won't be forgotten anytime soon. The Brissie based indie rocker has been trickling singles over the year that has been building to the release of his debut EP. A cohesive record that navigates love, life and everything in between; an impactful record that sings of lows yet leaves us on a high.
Ian Haug – director: Airlock Studios, guitarist: Powderfinger, The Church
"Andy is equal parts prodigy/savant and accessible/relatable rising star. There is a huge audience out there that love Andy, but they haven't found him yet. His compositions are original – yet familiar."
Declan Byrne – Triple J – on Heat of it All:
"How big is this one!! nice one andy, i can see fans of fergus james getting swept up in this too."