Awards And Graduation Ceremony 2021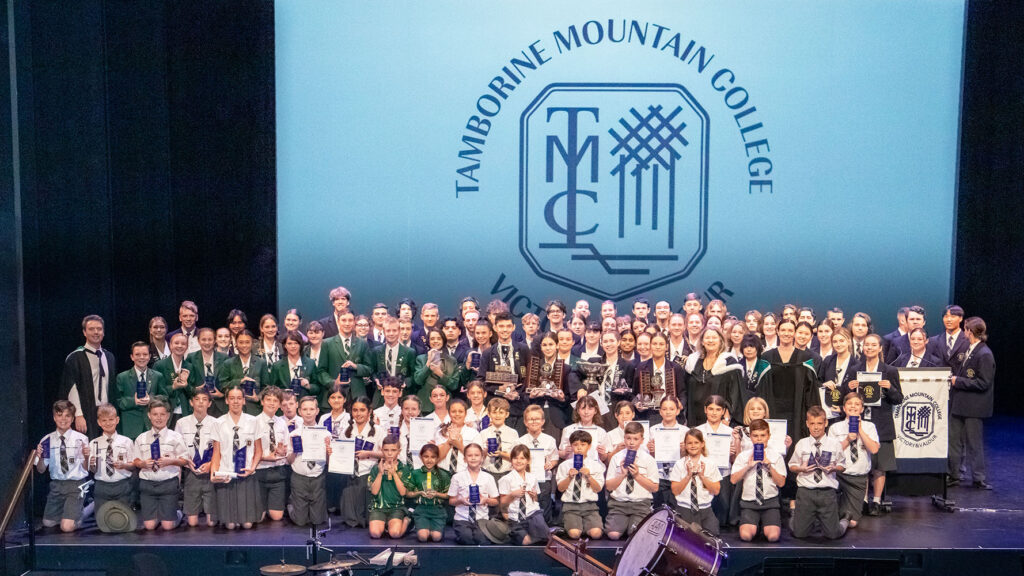 HOTA on the Gold Coast held the prestigious Awards Day for Tamborine Mountain College (TMC) where Prep to Yr 12, with family and friends, enjoyed the celebration of another successful year. Invited guests, Scenic Rim Mayor Greg Christensen, Mr David Kirkpatrick from Tamborine Mountain Lions Club, Ms Delma McCrea, Chamber of Commerce and
Logan Div4 Cr Laurie Koranski, were in attendance as well as TMC Board, Mr Lance Cordingley, Cr Virginia West, Mr Michael Kyle and wife Trish, Mrs Vanessa Bull, Ms Alicia Haynes and Mr Tony Kyle.
Awards Day acknowledges achievements at every year level and celebrates the graduation of Yr 12 and Yr 6 students. Despite it all TMC Yr 12 was prepared for the new ATAR system with external exams.
Victory & Valour Recognised:
★ Yr 12 success educationally highlighted by early entry offers into university and TAFE before ATAR release.
★ Lions Youth of the Year Speaker Award.
★ Debating Teams and Public Speakers competed successfully right through to the Finals. TMC Primary Debating Team took out the Grand Final Trophy and TMC Yr 10 student took out First place at AB Patterson College's Public Speaking Competition.
★ Opti-Minds teams went onto State level competition, with a First Place achievement and other accolades.
★ Sporting achievements – as part of the Independent Sporting Association for the major carnivals of swimming, cross-country and athletics. TMC Equestrian Team achieved State Champions and National success.
★ TMC Artfest was a huge success with the community enjoying artworks by students on display, including drama and music performances.
★ Drama Excellence students competed in Drama Fest on the Gold Coast.
★ Art Excellence students had works displayed in major galleries.
★ The HIA (Hinterland Independent Alliance) with Hills and Kooralbyn Schools continues.
202`1 TMC Awards Day
★ Leo Club and SRC have been busy raising funds and serving the community.
★ Camps and excursions to experience learning outside of the College classrooms.
★ Certificate levels achieved in many fields of interest.
★ Scarecrow Festival – Best Kindy Award.
★ TMC graduating Yr 6 class – a wonderful campus event to celebrate.
★ TMC graduating Yr 12 class – the Formal at the Intercontinental Sanctuary Cove.
2022 Leaders Were Also Announced:
Secondary:
• Captains – Madelyn Graham, Lachlan Williams
• Cultural Captain – Zoe Close
• Prefects – Patrick Boulton, Emily Clarke, Tiffany Johnston
• Sports Captains – Talia Criss (Nicholls), Greg Fowlds (Kyle), Kirsten Quinn (Walton)
Primary:
• Captains – James Haskins, Ariana Stevenson
• Cultural Captain – Isobel Stevens
• Prefects – Charlie Hunter, Ivy Jamieson, Casuarina Brownlee
• Sports Captains – Bella Pidd (Nicholls), Skye Petersen (Walton), Ava Hall (Kyle)
TMC Early Learning Centre celebrated the Pre-Prep Graduation at the College this year – an easier option for the little ones and their families. TMC Playtime Group continues to bring the whole mountain community together on Thursdays.
Mrs June Melbourne, College Principal, acknowledged families and staff for their support this year when COVID restrictions still came into play with lockdowns, homebased learning and mask wearing.
TMC Board members were also thanked for their ongoing commitment and Mr Michael Kyle OAM was publicly thanked for his Chairmanship over the last 10 years and Mr Lance Cordingley was officially announced as the new Chairman.