Beaudesert University of the Third Age Inc. News
And that is just what the keen members of Beaudesert U3A's ukulele group are doing, through lockdowns and on- again/off-again sessions over the five months since it formed earlier this year.
It has been a challenge for this group – nearly all complete newcomers to the instrument – but enthusiasm and some well-timed assistance have moulded them into increasingly competent players.
The group was first mooted last year when the popular U3A acoustic guitar group had to disband, and a plea among members for expressions of interest in a new musical group led to ukulele being nominated. Member Finella Loch put up her hand to guide the new group although she had misgivings about her capacity, as she had until then simply "strummed
with friends around a campfire."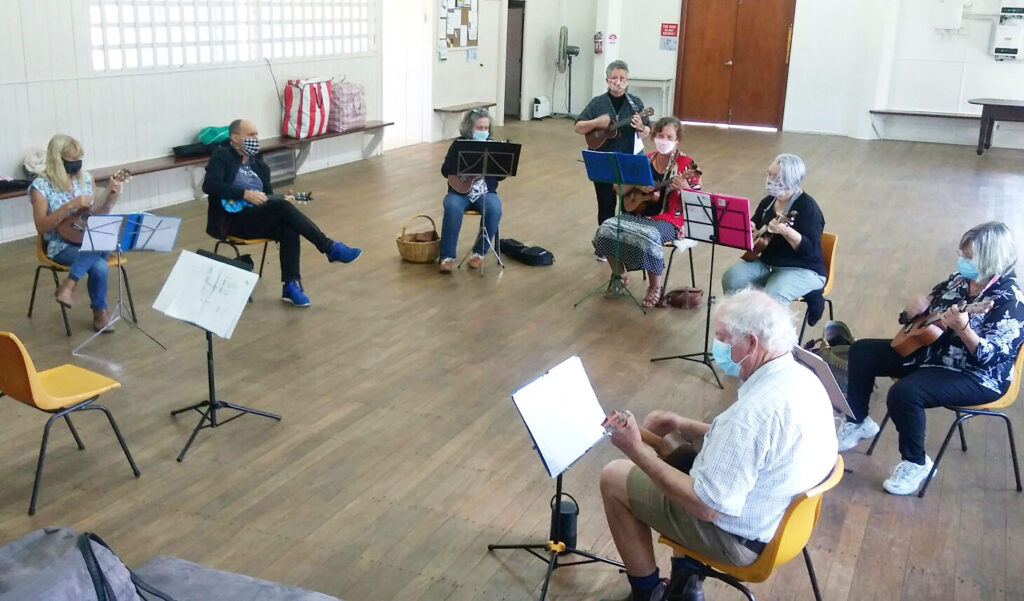 Then, happily, a co-tutor emerged in John Britten, a relatively recent arrival in town. John grew up in a musical family and his first instrument was the ukulele. He later founded a ukulele club in Swan Hill, Victoria, and arrived in Beaudesert seven years ago. The two have been assisted by another member Margaret Smith, plus some technology and another steep learning curve. Tuning is a vital part of playing the ukulele and is always the first part of any session. Then there is the singing to accompany the instrument.
"It's vital to have someone singing to keep us in tune," says Finella. "During Covid restrictions though, singing requires seven-square metres per person spacing because of projection. Singing with masks on becomes quite exhausting after 1 1/2 hours so I searched out recordings that we could play along to instead of singing ourselves. The recordings also help with practice at home, because they are on an app called Spotify, which everyone is learning to use. We're increasing our technology skills as well!"
Finella says the group actually learnt to play one song at the first session and has gone ahead in leaps and bounds. "The uke is such a joyful instrument and with just four chords you can already play a lot of well-known songs." (For a non-musician like me, it was interesting to read up on the history of the ukulele, which like many other people, I'd always associated with Hawaii.
Apparently though, the instrument in an earlier form was introduced to Hawaii by Portuguese immigrants from Madeira and was known as the "machete de braga." Its popularity grew immensely when a Hawaiian king insisted that the instrument be played at royal events to encourage the atmosphere of happiness and good times. The instrument became widely known in the USA in the 1900s and today is played virtually all around the world.)
Contact for anyone interested in the group is Course Coordinator Tina at 0418 780 861. Group meets in St Thomas's Anglican Church Hall, Albert Street, Beaudesert, on Thursday afternoons.