The Mount Tamborine Law Walk For 2022 …
Dawn rose over the mountain … beautifully backlit by fog … and no rain! Yay! Thanks for the fine day!
Those who were up and about at 7am would have noticed a group of folks walking along Beacon Road out to the lookout … looking very happy indeed that the torrential rain over the last few days had stopped and they could enjoy the excellent walking conditions.
Who were they and what on earth were they doing at such an hour?
As it turns out, they were a bunch of local lawyers. The Local 'Law Walkers' – Charlotte Stubbs, Randal Dennings, Candice Bent, and Ian MacAllan – known as the 'Tamborine Toddlers' were taking part in the 2022 Mount Tamborine 'Law Walk'.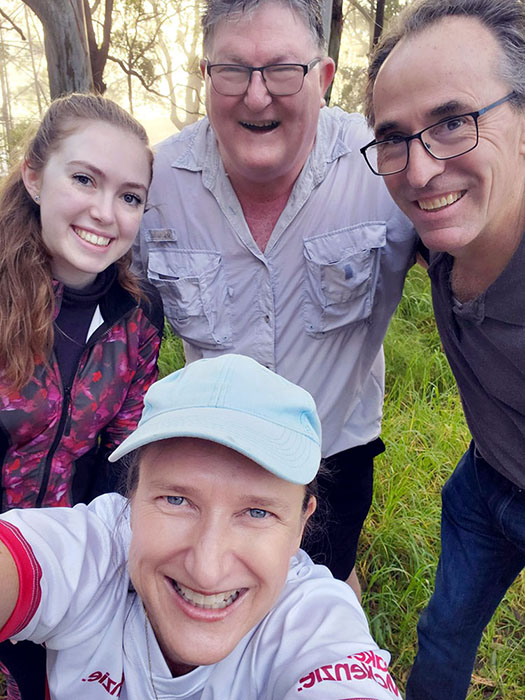 The purpose of the walk is to raise awareness and funds for LAWRIGHT (an organisation that provides a wide range of services seeking to increase access to justice for Queenslanders. It also has a particular focus to assist those clients with worthy claims in the public good (pro bono) but who would not otherwise be able to afford legal assistance – See www.lawright.org.au/qldlegalwalk for more details.)
Our local lawyers joined in with over 900 other Queensland lawyers and supporters who were also walking at the same time and with like purpose in Brisbane, Cairns, Townsville, the North and South Coasts and Toowoomba.
Just before the walk, over $110,000.00 had been raised … LAWRIGHT needs $200,000.00 to continue to maintain its Magistrates Court and Financial Counselling Services … so let's hope that this target is achieved!