History of Tambourine & Surrounding Region – 'Pioneer Family – 'Cusack'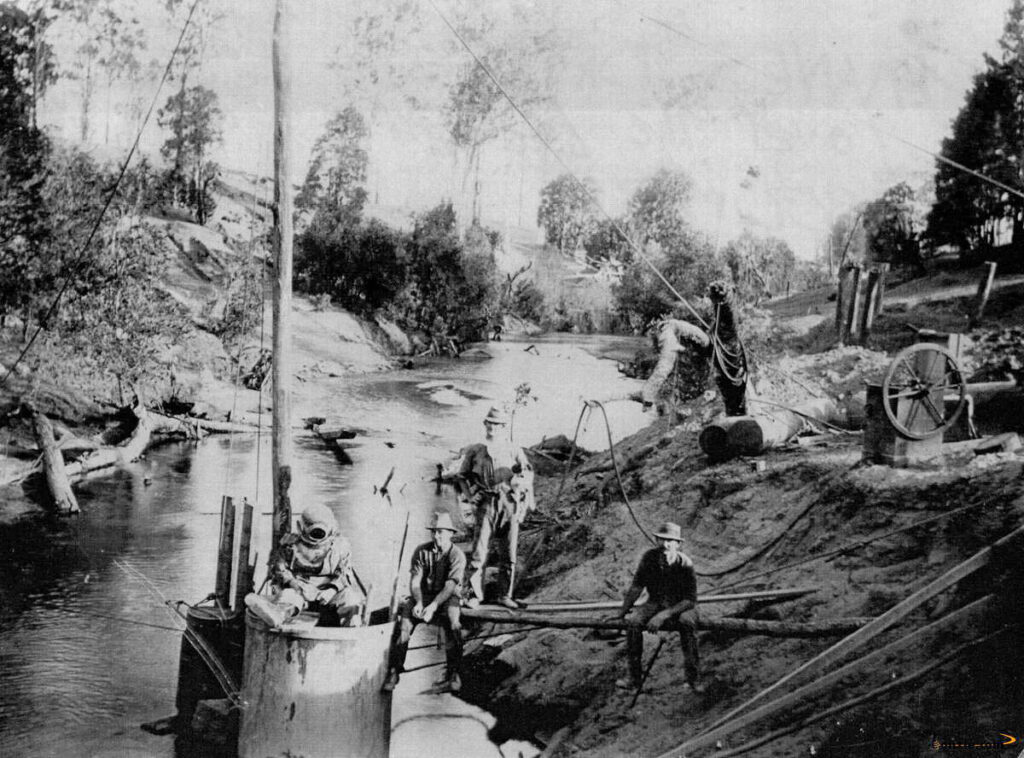 We are still 'stuck' on the year 1862, as we continue looking at pioneer families who arrived to the area at this time, making the, almost 180 days at sea, treacherous journey on sailing vessels from Ireland and England.
One such family to arrive in 1862 was that of 'Cusack'. Patrick Cusack is known to have brought his family from Ireland and arrived in Queensland on 20 February 1862. Patrick, who was born c1812, hailed from Derry Carney in Kings County, Ireland. His wife, Mary, was native of Cloghan, of Kings County, Ireland, and was born c1827. This is recorded on their memorial plaque in the Catholic Cemetery at Tamborine, and also includes their daughter Rose (Harrison) born in Kilowney, King's County, Ireland c1852 (who would have been 10 years old during the journey).We are unsure of who Rose married (and when) to become a Harrison.
There was the family of George and Susan Harrison who had a Dairy Farm (apparently) in the Jimboomba/Woodhill area (formerly in the Shire of Beaudesert) in the 1870s and who seemingly had sons: Alexander, Edward, Robert, Samuel, and William Henry, as well as daughters it seems including Clara Beatrice, Emma Adeline, and Hilda Caroline. An interesting point of note here is that in c1905, the bridge at what was known to be 'Rose Lane' in Jimboomba was rebuilt after the Logan River flood and renamed to be 'Cusack Lane', (The name Cusack is also interesting in that it can be traced back to being imported into Ireland at the time of the Norman Invasion of Ireland in the 12th century. Geoffrey de Cusack arrived not long after the first Normans landed in 1169 and built his Castle at Killeen (County of Meath) in 1181.)
The burial plaque of Patrick, Mary, and daughter Rose, in the Catholic Cemetery in Tamborine records the 'City Of Brisbane' as the vessel to have transported the family to Australia – but as old records can be conflicting – on the Scenic Rim Regional Council, Beaudesert Branch Library Local History Index, as well as the unpublished manuscript 'The Turning Years: The Pioneers of Tamborine and Jimboomba' by JF Stevens and Alex Harrison, the 'Erin-go-Bragh' is recorded as the sailing ship upon which the family boarded.
In the Index, sons John (who lived at Allens Creek, and became a labourer at Beaudesert and a member of the Tamborine Jockey Club in 1895), and Michael (who lived at Summer Hill, a property at Tambourine with his wife Kathleen, and also became a member of the Jockey Club in 1895) are also included as being transported on the 'Erin-go-Bragh'. So we are unsure which record is correct although tend to believe the memorial plaque would be most accurate, unless of course it is a completely different Cusack family!
Other members of the Cusack family on this very index appear to be Bridget (who in 1871 married Patrick Egan who did arrive on the vessel 'Erin-Go-Bragh' with his family), Bryan, (who became a Burnetts Creek labourer), and James Mathew, (who became a labourer at Nindooinbah). According to this record, the Cusack family settled at Tamborine as registered on the Beaudesert Electoral Roll of 1985, and Patrick's wife Mary became a 'General Servant' at the Tabragalba Station in 1903. Grandchildren were also listed as: Raymond, Thomas, and William who were enrolled at the Gleneagle State School in 1938/1939.
On the Tambourine Provisional School roll, Bessie and James Cusack are listed as being pupils from 1881 until 1890. They were both aged six years old when they started, commencing with Joseph Flanagan and Mary Egan in that year. Other children from notable families of Tamborine and recognisable names of the Tamborine area joined them including: Kate Yore, Elizabeth Waldron, Euphemia Waldron, Bridget Egan, Thomas Plunkett, Florence Yore, Lillie Flanagan, Anne Corcoran, Teddy Coolwool, Katie Corcoran, Maggie Callaghan, Willie Ball, Euphemia Fielder, Albert Fielder, Eva Coolwool, George Plunkett, Mary Waldron, and Rosie Coolwool in following years.
Before the 'Tambourine Mountain Road' was properly constructed up the
mountain to end the "pioneering period of isolation", from 1882 access to
mountain selectors' holdings from Tambourine was "due to the kindness
of Messrs McDonnell, [Portion 33], Egan [Portion 92], and Cusack [Portion
90] allowing access through their private land" in Tambourine.
Some other members of the Cusack family are buried at the Tamborine
Catholic Cemetery with a memorial headstone showing Annie Cusack, who
passed away on 12 December 1898, aged 49, and also their son Joseph
aged just 10 months. The headstone does not indicate to which Cusack
she was married. There is also a solitary headstone for John Joseph
Cusack who died in 1945. Patrick Cusack passed away on 21 April 1899,
and Mary Cusack died on 3 October 1883. Daughter Rose passed away
on 19 May 1914 but we are not sure why she is buried with her parents in
Tamborine – some further investigation is needed!
In The Next Edition, See More Stories of Local Pioneer Families …