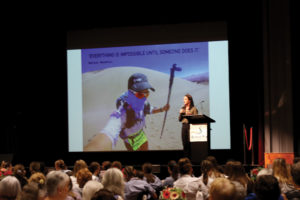 At Scenic Rim's International Women's Day Breakfast
As a most inspirational woman, Jacqui Bell was asked to speak at the recent Scenic Rim's International Women's Day Breakfast. Jacqui Bell is the youngest female in the world to run an Ultra Marathon on seven continents in the world. From the coldest to the hottest desert type environments, an Ultra Marathon is one of the toughest feats of endurance on the face of the earth. Carrying everything they need on their backs (not uncommon to be 14kgs) contestants compete in extreme environments over a five day period for a distance of 250kms. Jacqui explains that running 100,000 steps in a single day is also not uncommon, with four days usually involving 80-100kms each day.
So how did Jacqui end up taking part in such extreme events? As a victim of a violent robbery, she sadly became addicted to prescription drugs and ended up 'on the couch'. From 'Rebellion to Rockbottom' as she calls it, she knew that she was missing out on life and that she was ultimately the one who would need to make a change. She knew there was no quick fixes and that she needed to build good habits back in to her life. Identifying the four pillars of 'mental, emotional, physical and social' for which she needed to make long term changes, she set about making a new precedent for her life to "Just show up!". There was 'no Plan B, just Plan A', and so she decided to run in a multi-stage Ultra Marathon. Nelson Mandala's quote of "Everything is impossible until someone does it!" became her mantra as she strove to be the best version of herself.
Jacqui Bell's talk was not only inspirational but very entertaining for the audience of the booked-out venue, who enjoyed a beautiful breakfast by the Scenic Rim Council. Mayor Greg Christensen, Cr Virginia West and Cr Nadia O'Carroll also spoke at the breakfast indicating their avid support for women in both 'personal and corporate life'.